Youth Protection Training
We would like every parent in our pack to be familiar with Youth Protection Training. This is an easy to complete online course at https://my.scouting.org
If your have never logged in before, choose "Create Account". You'll then be asked if you are already associated with BSA. If you've never been an adult leader, just say No.
At which point you can fill this form out to get your login.
Once you're logged in to https://my.scouting.org, click on the YPT logo on the top right. Click "Take Course" and the video should begin. Questions will be asked at the end.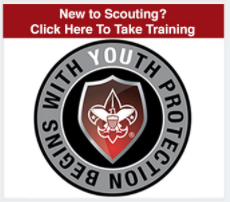 Please let us know if you have any problems with the process!